Continue getting your website analytics without Google Analytics 4: How Matomo solves critical problems and provides a superior alternative

With Google announcing the end of life for the current version of Google Analytics (Universal Analytics, or GA3) in favor of Google's latest GA4 standard, site owners who have been using the current GA platform will face a critical dilemma. The new analytics collection engine (GA4) does not register site activity the same way as the current scheme (UA/GA3), so historical data analysis will not be possible. Additionally, GA4 lacks several features that current Google Analytics users are accustomed to and may find critical for understanding how their website performance works, particularly for organic traffic. These issues present real challenges for site owners, but there is a solution.
We have anticipated this scenario and have been working on a solution for clients who want to preserve their historical website analytics as well as benefit from more advanced analytics features in a more intuitive and efficient website reporting platform. We have found what we believe to be a superior alternative to GA4.
Here's what you can expect from our GA4 alternative analytics solution:
Full historical data access to your current Google Analytics site traffic (UA/GA3)

No data sampling of your web traffic--you get 100% of all sessions, hits, and events

You own your data

Robust data privacy settings that provide compliance with GDPR, CCPA, and other data privacy requirements.

Simplified user interface, including easier user flow analysis

Increased goal tracking (up to 150 vs. limit of 20 in GA)

Unlimited segmentation analysis vs. 4 comparative segments in GA

Advanced funnel analysis and detailed form analysis, including field level insights

Full compatibility with Google Tag Manager for digital marketing campaigns

Multi-channel attribution modeling

Complete organic search keyword reporting from Google, Bing, and Yandex

Simplified referral traffic attributions

Integrated heat mapping

Integrated session recording

Integrated A/B Testing

Up to 50 custom dimensions vs. Google's 20 custom dimension limit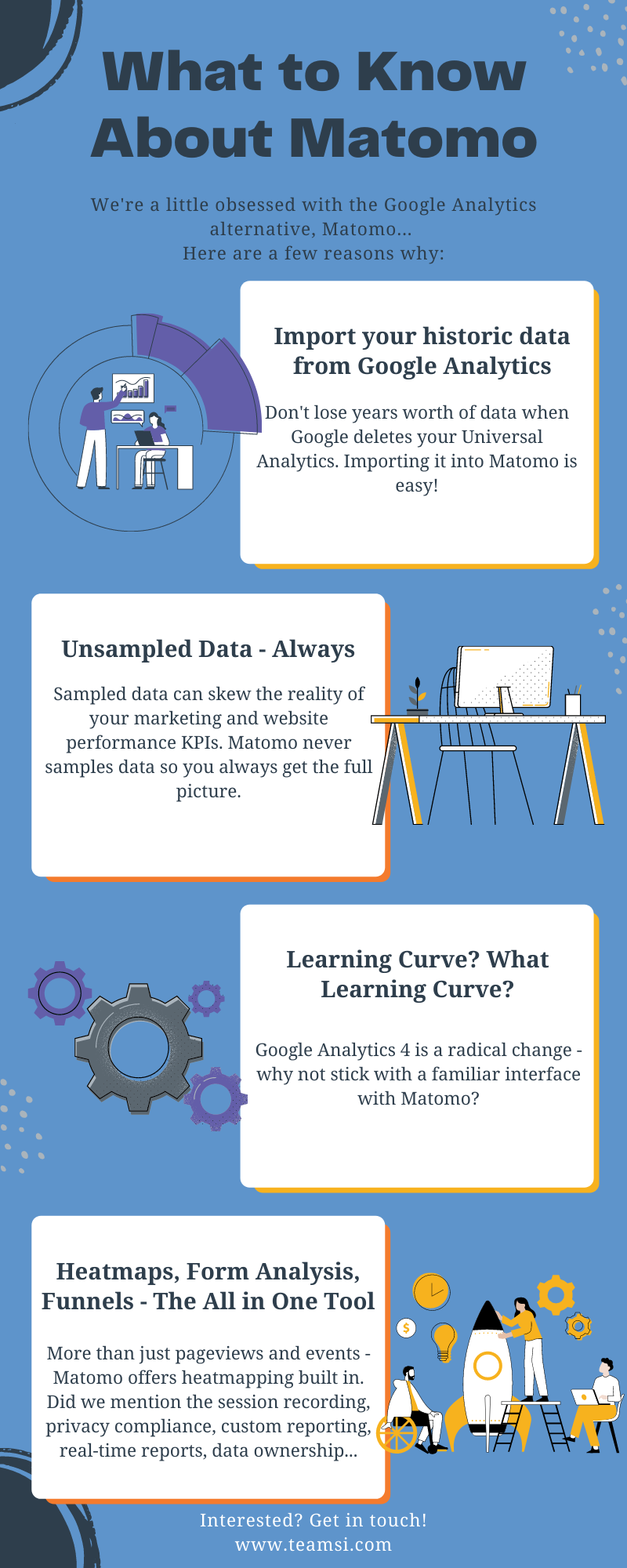 MHP Team SI's premium website analytics platform offers plans starting at $40 per month. To get a demo of the platform's capabilities fill out the form below for more information and a free consultation.
Learn more about GA4 & our analytics alternative.